India Sourcing Network – Everything you need to create an impactful made-in-India ecommerce brand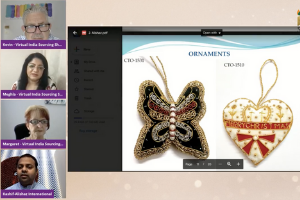 India Sourcing Network is a B2B sourcing platform that helps global Amazon FBA and eCommerce sellers, and brands build profitable private label businesses with products sourced from India.
India Sourcing Network is an ecosystem that offers information, FBA coaching, training, trips  as well as access to vetted suppliers and service providers so importers can source effectively, safely and profitably. 
Apart from sourcing-related resources and connections, we also provide global ecommerce sellers with the information and resources they need to grow sales on Amazon
How to Source Via India Sourcing Network
We recognize everyone has different needs, which is why we offer you a variety of ways to source from India
Option 1: Source directly from a manufacturer
Find and contact a Virtual India Sourcing Show supplier on our website, and source from them directly. 
Suppliers on our B2B sourcing platform have been vetted and verified to be legitimate export-focused manufacturers. Buyers should do their own due diligence before placing orders with any companies.
Practice safe sourcing, and utilize the services of a 3rd party inspection agency for quality control. 
Option 2: Buy via a sourcing agency
If you'd like a Done for You service, contact one of our vetted sourcing agencies from India.
They will find a suitable supplier for you, negotiate and place the order for you, plus manage quality control and inspections. 
Agencies charge a fee of about 5% to 10% of FOB order value.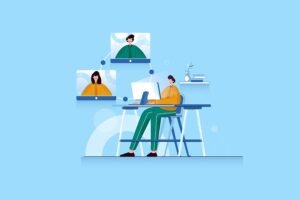 How India Sourcing Network Vets Suppliers
We take vetting our suppliers very seriously. Supplier membership is by invitation only, and companies need to go through a thorough vetting process. Watch the short video below to see how we do it.
Three Pillars of India Sourcing Network
We believe brands need 3Cs to be successful in an ecommerce business. 
And these are the three pillars of the Network – Content, Community, Connections.
Continuous learning is imperative for a successful ecommerce business. When you're part of B2B sourcing platform, India Sourcing Network, you get accurate and timely information to help you make the right business decisions. 
Content is delivered in a variety of formats – live webinars, in-depth articles, courses, workshops, mastermind, in-person events, among others.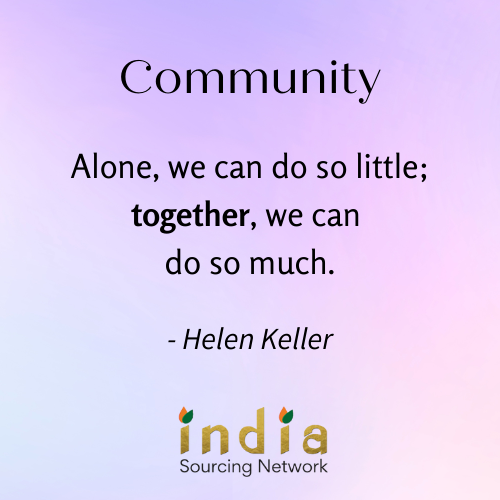 We have a collaborative and supportive community of sellers who are always willing to lend a helping hand. 
Whatever questions you might have, the community will have answers. After all together we are stronger. 
With Virtual India Sourcing Show, We bring to you reliable and trustworthy suppliers and service providers so you can carry on your business with confidence.
We vet all recommended companies, and we ourselves utilize the services of many of them before we bring them to you.
Meghla has over 20 years of experience in the Asia sourcing industry. She has visited hundreds of factories and tens of trade shows in India and China and has a deep understanding of manufacturing and sourcing processes. 
Meghla is passionate about helping global Amazon and eCommerce sellers discover unique products to source from India. She has been interviewed on over a hundred podcasts and webinars about the benefits of importing made-in-india products. 
She also runs The Asian Seller, a community for eCommerce sellers in Asia to help them start and grow their businesses.
Margaret is a successful and experienced Amazon seller, giving her first-hand knowledge of the daily challenges faced by online sellers.
Together with her partner, Kevin, she has been actively buying products from India for over four years. She is also a coach on India Sourcing Trip and offers one-on-one coaching to other sellers. 
Travelling to India to visit factories has allowed Margaret to appreciate how suppliers work and what products they specialize in. She has also visited trade fairs in Vietnam, Hong Kong and Mainland China.
After years of owning and managing many different businesses, Margaret became a mentor to small businesses and more recently, ecommerce sellers. 
She understands one of the most important business fundamentals is making sure you can make a reasonable profit. She believes there is no point in working hard without some reward for your hard work and effort.
Kevin is an accomplished entrepreneur having run multiple businesses in Europe and Australia over the course of his career – ranging from aircraft maintenance to overhaul projects and contracts.
Together with his partner, Margaret, Kevin started his ecommerce journey over 4 years ago. After having sourced from multiple countries including South Korea, Vietnam and China, they now buy their products exclusively from India. 
As Co-Founder of India Sourcing Network, Kevin spends a lot of time vetting and dealing with Indian suppliers to assist importers find and source from experienced export manufacturers. He also focuses on defining the overall strategy and direction of the Network.  
Given his engineering background, Kevin is familiar with manufacturing techniques and offers his expertise to sellers during the product development process.