How to Launch a 6-Figure Kickstarter Campaign
How would you like to crowdfund your product, get pre-orders and earn cash without even spending a dollar on inventory? This is possible by using crowdfunding platforms, the most popular of them being Kickstarter. 
Vance Lee is providing a mentorship program that helps inventors and creators to successfully launch their products online. He has co-founded Playground Theory with the aim to create a community for entrepreneurs who are taking their products online via crowdfunding.
His approach to raise money is a six-step Launch Accelerator Blueprint (LAB) that helps you to execute a profitable launch, eliminate risk and build a long term sustainable product. 
In conversation with India Sourcing Network, he talks about their mentorship program and the community they have built for crowdfunding.
Watch the full interview on YouTube or read a summary below:
Your guide to Launch Accelerator Blueprint
Step 1: Determine your USP
You can launch a product online and it does not have to be a new brand, idea or concept. A product already in existence can be reinvented and put up for launch. What the product will need is a Unique Selling Proposition (USP) or a hook that will make people take interest in it. 
The product can be anything ranging from a notebook, home decor items, dishes, apparel, kitchen products, beauty products etc. What is important is the way the product is positioned. The more unique the angle of the product, the more interest it will generate. 
Example: Cocktail shakers are already being sold online but Elevated Craft Cocktail Shaker was presented as a high-end cocktail shaker experience which generated a lot of interest on Amazon. They raised about US$470,000 on their Kickstarter launch. 
Anything you imagine can do well on Kickstarter if you are able to provide an edge to the product that is being launched.
Edge one: Product positioning
Even though this is the easiest step, it is a powerful tool that makes your product stand out. The story your product is telling should be different from the others. Here you can highlight the features and benefits of your product. You can also position your product for a new clientele by showing and sharing your product on different online platforms. 
Example: No Shoe Socks was catering online as a product to be used by athletes and for outdoor activities. The creators positioned it as After Socks, a product for women who had partied all night and did not want to wear heels the next day. They raised Euro 93,000 on product launch.
Edge two: Design upgrade
This step involves either changing the material of the product or a design upgrade. Aesthetically the change can be of an appearance but the function of the product has to be the same. 

Edge three: Small functional upgrade 
A functional upgrade is a change or addition to the product to enhance its function. In this step you can add or change features to enhance the function of the product.
Both edge 2 and 3 are slightly difficult to perform and require changing the product in some manner. If both these edges are combined with product positioning, the end result can be a more effective and successful product launch.
Example: A company launched chopsticks made of titanium and positioned the product as eco friendly as compared to wooden chopsticks. They presented the product in a very unique manner highlighting the material change. This allowed them to raise around US$300,000 by launching a thousands of years old product. 
Edge four: Advanced functional upgrade
This is a hard part to accomplish. It involves upgrading a product that can be used in a new way. Combining this with the first three edges will result in something new and different about the product. 
Example: A normal cutlery set was given a material change along with a functional upgrade.The new product could be broken into three pieces to be put in one's pocket and assembled again. It was positioned as the world's smallest cutlery. This campaign raised over Euro 1 million.
Step 2: Create your campaign
To launch your brand successfully on Amazon, Shopify or other e-commerce channels, you need to work on your brand assets and campaign basics.
Key brand assets
To get an excellent response from customers, you will need to create media assets including photos of really high quality, compelling copy and a campaign video for your product.

 

Once media assets are created, they will always represent your brand credibility. These assets are very important as you will be called upon repeatedly to put them on ecommerce channels, your social media and advertisements.
Campaign basics
Fundraising goals should be between US$10,000 to US$30,000, depending on your personal goals. 



The campaign duration can last for a maximum of 60 days. The most effective campaign duration is between 30 to 45 days.
Step 3: Build your list of customers
Your audience is your asset. Whether on Amazon or from your mailing contacts, a growing list is needed to increase the value of your business. Investor interest is also increased if you have a good list of customers. 
Organic customers

: Your original audience base is going to act as a support for your current and future launches. Care should be taken that they like your first product and it is only then that they will trust and show interest in your second product launch.


Acquired customers: Building a LifeTime Value (LTV) from customers whom you have acquired will be important because they are not only buying your first product but also investing in the new products that you introduce in the future. In this way the LTV of your product will increase over time with every individual customer.



Ideal future customers

:

They are

people who will eventually purchase your product. They can be searched on digital and online communities like Reddit, Facebook groups etc. This is your target audience who will be passionate about your product when it launches.





You can touch base with them before launching the product to get their idea on where they think the product can be positioned. This is important as you will be able to get an outsider's perspective.

Being involved with the product even before launch will make them want to support the product for crowdfunding. If you want to invest in paid customers then you can expedite and scale that through setting up landing pages and targeting people using Instagram and Facebook ads. You will be looking for people that are niche and also interested in crowdfunding.

Future influencers

:

These are customers who can bring credibility and drive traffic for your launch by adding value to your projects. They come from five important categories of social influencers to industry experts to online community administrators.





You need influencers who are already established in the market market segment of your product. Their endorsements and that they vouch for the quality of your brand will create additional buzz around the launch of your product. 
The goal of a strong launch is that many people become a part of your list within the first 48 hours and also that you are fully funded within the first 12 hours of the launch.
Spike the algorithm

:

You can kick start the Kickstarter algorithm in a way that's similar to the Amazon algorithm where you will be successfully funded in a shorter period of time. This will generate traffic to your online product, will help you identify your total backers and also plan your funding goals.



Take advantage of PR

: Use a PR company for your launch to bring more strategy to your product both at the beginning and after the campaign. They also help drive external traffic to the campaign. Engage them in advance to see if they're interested in supporting you. A PR company is optional but recommended.




 

Leverage your community

: People purchasing your product become a part of your community and can be contacted for their feedback. You can send out surveys and find out what product launches they would be interested in in the future.





You can also run contests and do giveaways to attract them. Their response time will show how engaged they are with your product. Watch what projects they share that their friends and family support.
Place your order

: Once you are paid by Kickstarter, place your order within 15 days of launch.





Sell without inventory

: You can move over to INDIEGOGO and continue selling your pre-orders without inventory. This way you can make more money. Clients who move from Kickstarter training to INDIEGOGO will see 20% to 200% additional sales.





Deliver on your promise

: Your customers are your backers and you have to fulfill and deliver your promise by delivering orders on time. 
Step 6: Establish your brand
Maximize your UGC

: After the campaign, the next important step is establishing a brand that is sustainable and has social credibility. This can be done by maximizing the User Generated Content (UGC), which is done through unboxing videos, photos, reviews and testimonials. Additionally, you can use them on your website, in your ads and emails.



Engage your community

: Your customers are your fans as they are passionate about your product. They can be engaged and involved for your second product idea and also for creating UGC. They can also take part in surveys or BTS content. You can find ways to engage them in various ways. 
A camera accessory product launched from a basement is now a powerhouse brand. After 10 crowdfunding campaigns, the product raised over US$30 million.
The company still sells on Amazon but with major focus on the product website which now has over 70,000 visitors every month. Last checked, the company was making a revenue around US$70 million.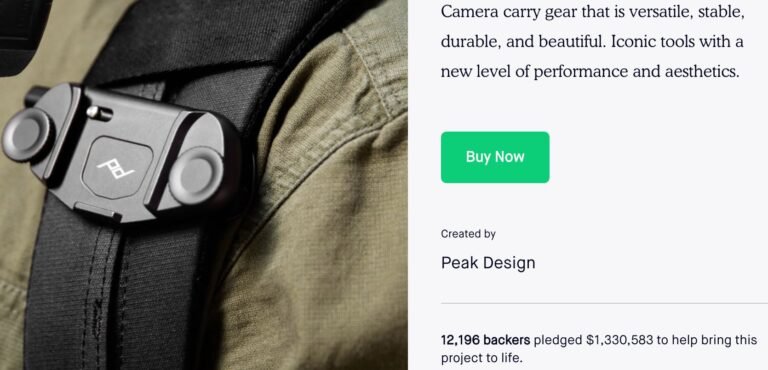 One of Peak Design's campaigns
A health and wellness product had three LAB-powered campaigns and was able to raise almost US$3 million and won over 47 thousand fans. They showcased their product on Shark Tank (Season 7) and one of the Sharks funded them. Subsequently, they expanded to third-party retail websites, Amazon and also started selling via television. 
This company is into health and beauty. They launched one campaign and US$40,000 and got the support of 800 backers. They then scaled to Amazon and to their own website and also third party online retailers. Entering into the competitive organic skincare segment and they are now earning US$200,000 on Amazon and similar revenues outside of Amazon.
Ecommerce entrepreneurs are unaware of or not utilizing the power of crowdfunding platforms. Platforms such as Kickstarter can help raise cash and launch products online.
The LAB program has created a community where you can launch your product online with minimum inventory risk and get customers who trust your product and are ready to buy and support your future products too.
It all starts with a USP or hook which will generate interest in your product, followed by a successful campaign with good quality pictures, videos and content. All this powers a strong launch and over a period of time helps establish your brand online which is credible and sustainable.