the Ecommerce Seller's GUide to sourcing from india - free ebook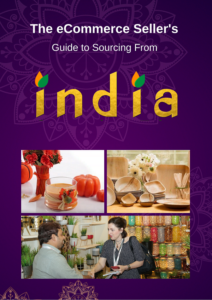 Are you an Amazon or online seller looking for unique and high quality products to private label? India suppliers offer differentiated products that can help your brand stand out from the competition. 
This free 50-page sourcing guide eBook gives you an overview of buying from India, so you can import effectively and with confidence.
This book is for you if you are looking for:
Alternative import markets to diversify your sourcing and minimize business risk
Unique and differentiated products that are not found in other sourcing countries
You will learn: 
Why source from India : Find out if India is right for your business 
Challenges: What are the pitfalls you need to be aware of
Product categories: Which products does the country specialize in 
Finding suppliers: Where to find manufacturers and exporters
Sourcing at trade shows: Which export-focused exhibition to attend in India
Quality control: Find out how to to get consistent product quality
Logistics and delivery times: How to ship products from India to Amazon FBA
Prices and payment terms : Is it cheaper than China and what are the payment terms
Tips for effective sourcing: Get advice on sourcing profitably and safely