Sourcing Wooden Products from India: All You Need to Know
Home and kitchen products, gifts and furniture made from wood are one of the most sought after products from India. The country offers a variety of products that are handcrafted by skilled artisans who have been making products from wood for generations.
A variety of products are manufactured, including home products, home decor items, kitchen use products, furniture, toys, games and more. 
In this article, we will look at the different types of wood available, and tips to keep in mind when importing wooden products from India.
The main production hubs for wooden products are Saharanpur, Moradabad, Jodhpur and Jaipur. All these cities are located in North India, where the hot climate ensures the wood dries faster and has the least amount of moisture.
Saharanpur and Moradabad are known for the production of small home use and decor items, while Jaipur and Jodhpur are home to most of the wooden furniture suppliers.
If you're looking to learn the A to Z of sourcing private label products from India, check out our India Sourcing Workshop. You can buy recordings of the previous workshop, or join us live for the next one.
Although a wide variety of woods are available in India, most products are made from mango wood as it is cost-effective, sustainable, and has a luxurious look. 
Let's take a look at the different wood options:
Mango wood is a moderately hard, heavy and strong wood with a yellowish white to greyish brown color. Each style made from this wood has varied shades of wood, which is naturally beautiful and makes each piece unique.
The wood has a beautiful grain that can be straight or interlocked with a medium to coarse texture and good natural luster. 
Mango wood is considered very eco-friendly and sustainable, as mango plantations harvest the trees for lumber after they have completed their fruit-bearing lifespan.
Because it is abundantly available in India, mango wood is a more cost-effective wood compared to other hardwoods such as teak. 
Mango trees are prone to both insect and fungus attack, but once the wood is dried  (or seasoned) and treated, both disappear, leaving behind the gorgeous patterns and colors we see in the wood.
Acacia wood has a naturally fine texture and is highly scratch resistant in comparison to other hardwoods.
The grain can vary between straight and wavy patterns, and the color can range from a light amber to a dark mahogany.
Acacia is durable, and its density and hardness makes it the perfect material for heavy-use pieces such as furniture that can last for decades.
Pine wood is mostly imported into India. It is light in color, usually with a creamy white look, although the specific shade can vary.
This is a softwood that is durable and suitable for areas of high foot traffic. It has a prominent natural grain, with knots darker than the wood itself. It is suitable for paper manufacturing, construction lumber, furniture, among other products. 
Teak wood is available from India but it can cost twice as much as mango wood. Teak has a beautiful grain, and is long-lasting.
Products made from bamboo are available in India, but these are mostly made directly from bamboo shoots and not engineered bamboo wood planks.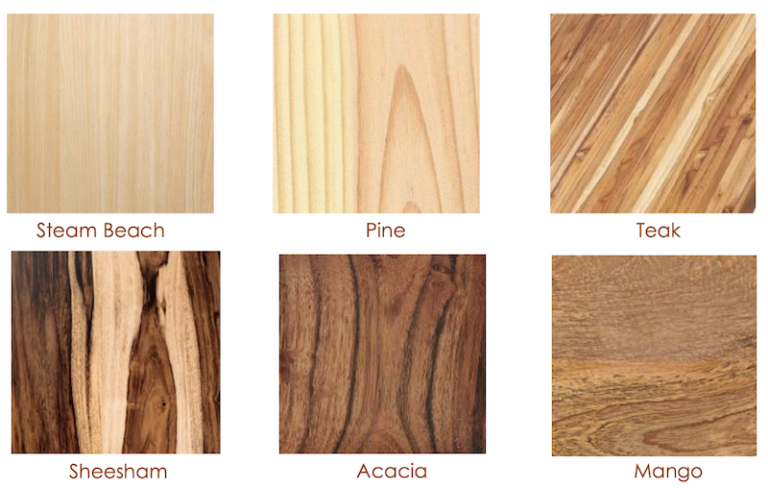 It is essential that wood is treated properly before products are made so there is limited moisture in the wood. This strengthens the wood, makes it easy to work with, and prevents infestation of bugs, or fungus growth.
Wood is cut into planks and placed in temperature and humidity-controlled drying chambers for 20 to 25 days. This is called seasoning of wood. At this stage, the wood is also chemically treated with bi-flex so there are no bugs.
The moisture content of the wood when it is sent to the factory for production should be between 8 and 12 percent. But during the winter and rainy seasons, moisture content does increase and can go up to 14 percent. 
According to wooden products expert, Kumud Marwah from sourcing agency, SabSource, it should not be more than 14 percent (during winters / rainy season), and it should not be less than 8 percent or the wood will crack.
Treated planks are glued together and sanded to make bigger planks, which are then used to make products.
Then a sealer is applied so any gaps or small holes in the wood are filled in, after which the wood is sanded by machine or hand. 
It is essential that this process is done well to ensure the wood feels smooth and not rough. 
Next, a coating of lacquer is applied on the wood. Lacquer can be water or oil-based, shiny or matt depending on the look of the product a buyer wants.
Make sure in case of kitchen items, the supplier is using food safe lacquer.
Indian products are known for their unique and differentiated finishes.
Well established export-manufacturers such as Vidhi Exports and BKP Metal Concepts have in-house facilities for these finishes.  
Here are some finishing options: 
Natural: Solid wood has a distinct grain, which you don't want to cover up with opaque paint. This is why clear finishes are used on a natural finish. The coating highlights the grain while providing a layer of protection for the wood.

To educate the end customer, we must make sure to add a story card  or advertise the product stating that the natural finish of the wood will be unique to each piece.


Stains: Stains are dyes that work by saturating the wood with a translucent shade rather than applying a layer of color on the wood surface like paint. This means that you can alter the shade of the wood but still retain the natural texture of the grain.

Wood stains are available in a range of various translucent shades to enhance or slightly alter the color of natural wood. Stains come in various shades such as walnut, brown, charcoal, among others.


Burnt: Wood is torched to give a burnt effect.


Whitewash: This is a washed patina look which may vary from piece to piece.


Decal: Various decals can be affixed on wood.


Enamel:

Colorful designs can be achieved with enamel paints, and these have a shiny finis

h.


Sandblasted: 

This gives a little rough texture to the wood.

Certifications needed when importing into the US
When importing wooden products into the US, there are a few documents that are needed depending on the type of wood being used.
All required documents are procured and submitted by the supplier to the freight forwarder at the time of shipping. If any documents are missing or incorrect, the goods will not pass Indian customs. Most documents are arranged by the supplier and buyers don't need to manage them.
Buyers do not incur any additional costs to get standard certifications. Experienced exporters are aware of requirements for overseas markets and generally incorporate these into the price quoted.
It is therefore important to work with export-experienced manufacturers. 
The Lacey Act is a declaration made by the supplier that the wood is sourced legally. This is done online and submitted to the freight forwarder along with other shipping documents. This is a US requirement for all products made of wood imported into the country.
Sheesham wood requires a mandatory VRIKSH certification, which is required by the government of India to show where exactly the wood has been sourced from. This certification is provided by the supplier to the shipper.
Does not require any special certifications.
Requires the "CARB certification" which the manufacturer procures from certified suppliers.
When importing into the US or Australia from India, fumigation or heat treatment is required on wooden products that are made from raw wood. These are usually packaging products such as dunnage, crating, pallets, and others.. 
However, finished products that are treated (such as painted, lacquered) do not require fumigation.
As each country has different import requirements, always check with a freight forwarder or customs broker what the specific requirements for your country are. 
India Sourcing Network's preferred freight forwarder is Seair. Send them a message via the form on their webpage.
A Lacey Act declaration form must be submitted by the supplier when exporting to the US

Best practices when sourcing wooden products
Ensure the supplier specializes in wood, and has the experience and capability to work with wooden products. Working with manufacturers whose core capability is not wood, can result in quality issues.



Be cautious when sourcing wooden products from Saharanpur as many factories there are small facilities where quality may be compromised. Make sure to monitor the factory closely, check samples thoroughly, and get pre-shipment inspections done.



Products from Saharanpur can be cheaper than those from Moradabad or Jaipur, but the wood may not be treated properly or the workmanship may not be precise. Artisans in the city are known for their carving work. 


Moradabad has more export-experienced manufacturers, and many large factories that supply to top global retailers. Prices of wooden products may be higher than Saharanpur, but wood quality is generally better.


Pay close attention to the construction of wooden products. Quite often, products are not durable or fall apart because joints are weak or haven't been joined properly.

Shelves, for example, that are made of different panels joined together should be secured with V nails and glued. 


Wooden products might have more moisture during the monsoon season, which lasts from June to September.


There might be delays in production during the rainy season as suppliers might let products dry in the sunlight after they are polished or painted.


Make sure suppliers ship products with silica gel included inside the inner and master cartons for all wooden products.

Also, they must wrap the master carton with a polybag or shrink wrap before dispatch. This will protect the pieces from environmental moisture if any.



As most wooden products are handmade, there may be slight variations in size and shade. You need to discuss this with the supplier beforehand, and specify your tolerances.
51 wooden products to source from India
Watch this video to get some inspiration for wooden products you can private label. 
Adding made-in-India wooden products to your private label brand can help differentiate you from the competition. As many of these products are handmade, there's a lot more value addition that can be done to increase their perceived value and profitability.
You can also tell the stories of the artisans making these products in your Amazon A+ content, which can enhance your overall brand value.
Even though products are handmade, suppliers are able to quickly and easily scale production if buyers require high quantities.