Products to Source from India for Your Brand & Ecommerce Store
India is a powerhouse of manufacturing and exports, and supplies wholesale and private label products to importers around the world. 
Products made in India include a range of innovative and unique items ranging from home and garden decor, furniture, hardware, gifts to apparel, textiles, furnishings, fashion jewelry and more.
Indian manufacturers specialize in making products in natural materials such as cotton, silk, jute, wool, metal, wood, glass, ceramic and the like.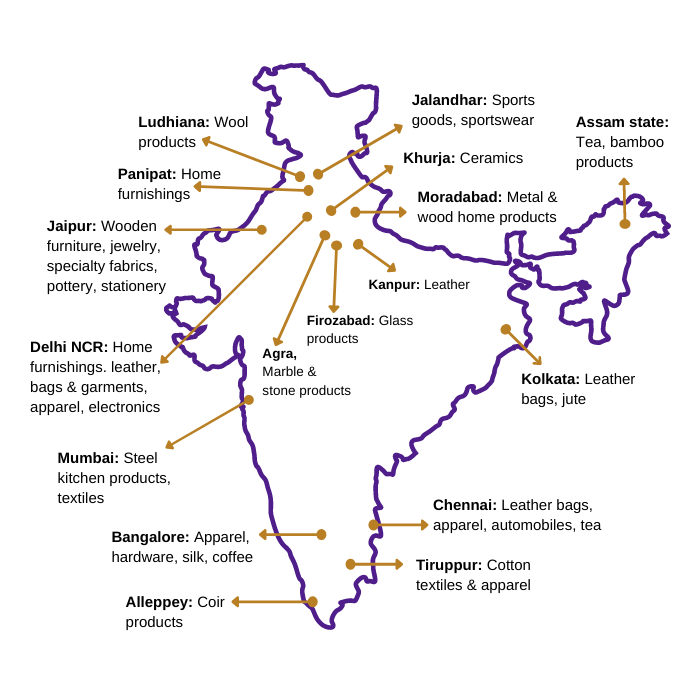 A map of India showing key production centers for products Amazon sellers can source. 
There is increased focus on eco-friendly and sustainable materials such as plant-based fabrics for fashion products, biodegradable dinnerware made from areca palm leaves and home furnishings made from recycled PET bottles. 
Building a private label ecommerce brand around such innovative and unique products allows Amazon and ecommerce sellers to differentiate from their counterparts who are mostly sourcing all their products from China.
India Sourcing Network presents a comprehensive guide to the top products made in India that brands can source.
Products you can source from India for your brand
Wood is one of the popular materials being used for making a variety of products, such as home utility and decor items, furniture, kitchen & table products, utensils, and sensory and educational toys.
One of the main benefits of importing wooden products from India into the US is that the tariffs are much lower than they are on products imported from China. 
There are about 15 varieties of wood available with Indian suppliers, however mango and acacia wood are the most commonly used. 
Teak is expensive and has regulations from the Government on how you can export it, but mango and acacia wood do not have any restrictions. 
According to the Lacey Act of the US passed in 1900 and amended again in 1985, certifications are required, which conform to the Lacey Act. 
An export-experienced manufacturer of wooden products in India will know all the requirements and regulations. Your freight forwarder will work with the supplier to provide the necessary documentation needed. 
The main production hubs for wood products are Jodhpur and Jaipur, because both cities are located in a desert region in Rajasthan. The hot climate ensures the wood dries faster and has the least amount of moisture.
Metal home decor and gifts
Amazon sellers can also source a variety of home products made from metal from India. Materials include copper, brass, bronze, aluminum, galvanized iron and wrought iron.
Products made of metal are home decor items, kitchenware such as platters, mugs, cutlery, and other gift items. 
When sourcing metal products, understand the supplier's experience and expertise and source products they specialize in. 
Asking a supplier to do something outside of their wheelhouse could lead to delays and quality issues.
Moradabad city in the state of Uttar Pradesh is the main production hub for metal home decor items in India. There are thousands of export-manufacturers in the city that make products from cast metal specifically with aluminum, brass, copper and more.
The city accounts for over 40 percent of total handicrafts exports from India.
Most work here is done by hand, which means there can be variation in production and QC needs to be done carefully.
Contact vetted metal products suppliers on India Sourcing Network
Another major category of products being manufactured in India are apparel and textiles. The key materials are cotton and cotton blends, silks and wool textiles – both woven and knitted, handloom fabrics and recycled fabrics. 
Tirupur city in south India is a major production hub for knitted garments such as cotton t-shirts, hosiery and other products. The city has witnessed the fastest growth of the knitwear sector from India in the last 10 years.

There are about 7,000 garment units in the city and more than 50 percent of India's total knitwear exports come from Tirupur.
Sourcing handloom fabrics can be tricky for QC because it is done by hand, and there may be variations, but these types of fabrics are very unique and not found in other countries. 
Make sure to have an AQL for inspections and if the factory has too many pieces outside the sizing chart then you can add in caveats like discounts or a rejection of the order.
Contact vetted apparel and fabrics suppliers on India Sourcing Network
Saroj International – Leading supplier of leather garments and bags
Padmini Silks

– Established supplier of silk fabrics, upholstery and more

Krittoz – Garments supplier has 8,000 pcs daily capacity
Ceramic products you can private label from India are kitchenware, dinnerware, mugs made from stoneware, terracotta, earthenware and porcelain.
India specializes in specialty and decorative ceramics as most products are hand-made and sculpted. Ceramics are typically more porous meaning they are more absorbent. 
There are suppliers of high-end bone china products as well, such as TCL Ceramics. 
While MOQs for ceramic products can be in the low hundreds, large companies such as TCL typically have higher MOQs in the thousands.   
Contact vetted ceramics products suppliers on India Sourcing Network
TCL Ceramics

– India's leading bone china tableware manufacturer
The various kinds of leather available in India are buffalo, goat, sheep and cow. They are full grain and top grain, which is of the highest quality, and the lower quality is genuine leather and suede leather.
Leather products manufactured in India are shoes, garments, bags, and stationery. Garments are typically made of goat leather as the leather is fine and can be cut and stitched easily. Bags can't be made of goat or sheep leather as the leather is thin and the strap might break if the leather is not strong enough.
Products made in India are of high quality so they command a premium price. Look for a factory that does everything in house from start to finish. 
Leather has different finishes. Oily Hunter Brown is a very popular finish for leather, but if the tanning is not done properly there might be mold or crystallization on the leather. This happens if the tanning process is not carried out properly, so when the leather product is taken from an area of higher temperature to a lower temperature, it gets mold on the surface of the leather or crystallization. 
Contact vetted leather products suppliers on India Sourcing Network
Home furnishings from India are made of materials such as cotton, linen, silk, wool and rayon or a blend of two or three materials. Products available are bed sheets, pillow covers, cushion covers, bed covers, curtains, macramé and poufs.
Jaipur in Rajasthan has block printing and screen block printing in cotton and cotton blends.
Panipat is known for hand-tufted rugs, cushion covers, bathmats, macrame products and a range of other types of home furnishings.
Delhi & NCR mostly has suppliers of cushion covers, bath mats and home decor items.
You can find a range of unique furnishings in India that are not found in other countries, and the quality is at par with any other country.
Here are India Sourcing Network's top furnishing suppliers
Cocotuft – India's largest manufacturer of coir doormats 
Krishna Corp

– Exquisite variety of cushion covers, bath mats and more
Stationery items from India are made not only from paper but also from recycled paper, woven grass and palm leaves. 
Even boxes and baskets are made from palm leaf or woven grass, which are eco-friendly materials. 
Products available are journals, wrapping paper, paper for greeting cards, mill made paper and denim paper. 
Desert areas are good for drying out paper which makes Jaipur and Jodhpur hubs for these stationery items, along with the NCR. 
India specializes in handmade paper, which has a unique texture. This is made from 100% recycled paper and gives a uniqueness to any product made from it. 
Since paper tends to absorb moisture, ensure it is properly packaged while shipping.  
India specializes in eco-friendly products and many manufacturers nowadays are focusing on such products. 
Eco-friendly materials being used are jute, coir, PET, recycled leather, seeded paper, woven grass, palm leaf, among others. 
There are companies such as Studio Beej that are developing eco-friendly fashion products from innovative plant-based materials such as cactus leather, cork leather and fabrics made from pineapple fibers.
Recycled PET fabric, which is a type of fabric made from recycled water bottles, is gaining traction as well. A number of home furnishing products such as rugs and cushion covers are made from this material. 
Biodegradable disposable plates such as those made from areca palm leaves or sugarcane bagasses are popular products for Amazon sellers. 
Here are some eco-friendly products manufacturer-exporters
Studio Beej – Innovative fashion products in plant-based materials 
Tamul Plates

– Disposable plates made from areca palm leaves
You can find a range of packaging options in India from paper, recycled paper, cotton fabric, jute fabric, cardboard, wood and MDF fiberboard, among others. 
There is a focus on eco-friendly packaging nowadays with many suppliers trying to avoid the use of plastic packaging and polybags. 
Most of the time your supplier can get your packaging done for you, or you can work with a packaging supplier to develop customized printed boxes. 
Some packaging suppliers don't have in-house design capability, so you might need to get the boxes designed by a designer and send the artwork to the packaging company.
India offers a variety of unique and differentiated products that are perfect for private labeling to sell online or on Amazon.
Suppliers produce high-quality products that meet international requirements. Many of them are handmade items, but suppliers have the capability of scaling production so they can cater to large orders.
The focus is on natural materials such as cotton, wood, metal, ceramics and the like.
Handmade products have a unique look and feel, and can command higher prices as compared to machine-made mass-produced products.
Many large retailers and brands such as Wal-Mart, IKEA, Armani, Woolworth and the like have been sourcing from India for decades. It is now time for Amazon and ecommerce sellers to discover the unique products India has to offer.
India Sourcing Network brings to you vetted export manufacturers from India.