How to Find Export-Focused India Manufacturers for Your Brand
Finding manufacturers and exporters in India for your OEM or Amazon FBA private label product can be tricky as many don't maintain updated websites and are not listed on supplier directories.
One of the biggest pitfalls to avoid when sourcing from India is working with a manufacturer that has no export experience.  
Since there is a huge domestic market in India, many suppliers you find online will sell products locally. You want to avoid working with such companies as they typically don't understand the requirements and standards of overseas markets. So ensure you vet suppliers and do your due diligence before placing orders.  
You also might find that some suppliers are hesitant to cater to Amazon FBA private label sellers placing small orders. It's important to keep looking until you find the supplier that's right for your needs. 
All Virtual India Sourcing Show suppliers on India Sourcing Network are vetted to be legitimate companies that are manufacturers and have export experience. 
Another great way to find export-focused suppliers is to attend sourcing trade shows.  
This is why we designed India Sourcing Trip, a guided learning, sourcing and cultural trip to the Delhi Fair, the biggest sourcing trade show in India for overseas private label buyers.  
Here's how you can find India suppliers for Amazon FBA private label: 
Start by searching for suppliers on Google. Since all websites in India are in English, chances are you'll be able to find India manufacturers and exporters for most products.  
Use search terms such as: 
👉🏻 India exporter
👉🏻 Supplier of in India 
👉🏻 India manufacturer
Note that you may see wholesalers, trading companies and domestic-focused suppliers in search results, so ensure you vet suppliers to make sure they are genuine exporters.  
You will also see results from various supplier directories such as Alibaba or Global Sources, and you may need to go beyond page 1 to see actual suppliers' websites. 
2. Online Supplier Directories
You can find suppliers on third-party sourcing websites such as Alibaba and Global Sources.
These are the only two comprehensive export-oriented supplier directories. Both companies have offices in India and actively recruit suppliers for their websites. 
Use the "Location" filter on search results pages of these websites to see suppliers from various countries.  
IndiaMart is a website that shows up often in Google search results. Even though this website has a large number of suppliers, most of these companies are domestic-focused. There are also a lot of trading companies and it's sometimes difficult to identify real factories.  
Also, many of the trading companies on IndiaMart actually import products from China to sell domestically, so be sure to avoid those types of companies.  
Some exporters may also supply to the domestic market, but typically the percentage of exports is higher.
On Global Sources, the supplier location filter is in the left column.

On Alibaba, use the Supplier Location filter at the top of search results or in the left column.
How to Identify Manufacturers in India
Here are some tips to identify manufacturers in India. These will not work 100% all the time as sometimes factories will make some products in-house, and outsource other categories.
It is also common for suppliers to outsource production or certain processes to home-based artisans, or village clusters.  
👉🏻 Company name: Companies that have the words such as "trading", "agent" or "wholesale" in their company name, are more likely to be trading companies. 
👉🏻 Company profile: Read the company's profile and other information on their website. If they are a manufacturer, they will have information about their factory and production capability on their website. If they are an exporter, they will also have information about the key markets they sell to.  
Some might also have photos of export licences or export product certifications such as FDA.  
👉🏻 Product categories: If a supplier features a diverse range of products made from different materials (for e.g. wooden home decor and cushion covers) on their website or at a trade show, they are most likely trading in one of the categories and manufacturing the other in-house. 
Genuine exporters will usually display information about the overseas markets they sell to on their websites.
At India Sourcing Network, membership of suppliers is by invitation only, and not all suppliers can join. We hand-select companies for the Network, and some suppliers are also recommended by buyers in the Network. 
There are a few criteria for joining the platform:
Suppliers must be legitimate companies (no individuals).
They must be manufacturers with their own factories or have in-house facilities for QC, finishing and packaging.
Companies must be export-experienced.
They are interviewed live in Virtual India Sourcing Show before being added to the website.  
We vet companies in a few different ways:
Online background checks are done
Company registration or other documents are checked to ensure they are manufacturers. 
Import Export Code certificate is checked to ensure they are able to export.
If needed, we speak with their previous or current buyers. 
With Virtual India Sourcing Show, you can virtually "meet" with suppliers from the comfort of your home.
See all Virtual India Sourcing Show suppliers
One of the best ways to find export-focused suppliers in India is to meet them at B2B sourcing trade shows in India or other countries.
Delhi Fair: India's Only Export-Focused Sourcing Fair
The Indian Handicrafts & Gifts Fair (also known as the Delhi Fair) is among Asia's largest gifts & handicrafts fairs, held twice a year since 1994 and is organized by the Export Promotion Council for Handicrafts.
Also known as the "Canton Fair of India", the Delhi Fair is the most important export exhibition in India, and a must-visit for anyone sourcing products from the country.  
All exhibitors are export-focused and the products on display are in line with design preferences of consumers in the US and Europe, the two key markets for Indian exporters.  The fair features over 3,500 exhibitors spread over 197,000 square meters. 
This is the fair we visit during India Sourcing Trip for Amazon and eCommerce sellers. 
Due to COVID-19 restrictions, the physical fair is currently on hold, but virtual fairs are still being held. 
Products You Can Source at the Fair 
The Delhi Fair has product categories ranging from home decor, furnishings to gifts and fashion:
✔ Natural home decor, houseware, tableware, kitchenware & hotelware
✔ Bathroom accessories
✔ Lawn, garden ornaments & accessories
✔ Lamps, lighting & accessories
✔ Furniture & accessories
✔ Home furnishings & made-ups
✔ Carpets, rugs & floorings
✔ Bags, luggage & leather goods
✔ Christmas & festive decor
✔ Candles, incense sticks, potpourri and aroma
✔ Decorative gifts (including corporate gifts)
✔ Cane, bamboo fiber, natural & eco-friendly products
✔ Stationery and paper including handmade paper
✔ Fashion jewelry, bags, scarves & accessories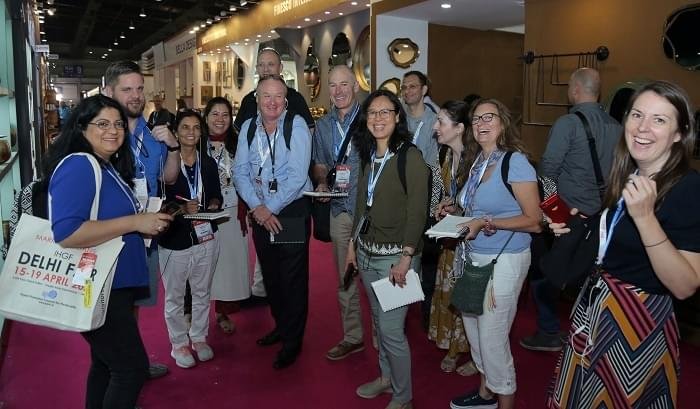 India Sourcing Trip attendees at the Delhi Fair in India. This is the largest export-focused show in the country.
Sourcing Trade Shows in Asia, Europe, US and Australia
Many of the established exporters in India exhibit at sourcing trade shows around the world. Look for such exhibitions in or near your city and you might find some suppliers from India there. 
Note that most shows are currently not happening in-person, but some are being held virtually.
Here are some shows around the world where you're likely to meet Indian exporters: 
Asia
⚡ Global Sources Exhibitions – Hong Kong 
⚡ HKTDC Exhibitions – Hong Kong 
⚡ Hong Kong Houseware Fair – Hong Kong 
⚡ Canton Fair – Guangzhou
⚡ India Trend Fair – Tokyo 
⚡ Asia's Fashion Jewellery & Accessories Show – Hong Kong 
⚡ Seoul International Sourcing Fair – Seoul  
Europe
⚡ Autumn Fair – Birmingham 
⚡ Maison & Objet – Paris 
⚡ AFL Artigiano In Fiera – Milan
⚡ Heimtextil – Frankfurt 
⚡ Spring Fair – Birmingham 
⚡ Ambiente – Frankfurt  
North America
⚡ Sourcing at Magic Fair – Las Vegas  
Australia 
⚡ Decor+Design Show – Melbourne 
⚡ International Sourcing Expo – Melbourne
There are many sourcing agents in India (also known as buying houses) that maintain their own databases of suppliers.
If you're new to sourcing from India, or are unable to find a suitable supplier, a sourcing agent will surely help make the process more efficient.
Some agents specialize in certain categories primarily depending on where they are based and their proximity to production hubs. 
But many large buying houses have offices and representatives throughout the country and are able to source any product.
Hanoz Patel from sourcing agency SabSource talking about eco-friendly products during India Sourcing Trip.
An Amazon seller from Australia meeting with a sourcing agent at India Sourcing Trip.
Here are India Sourcing Network's vetted sourcing agents
6. Export Promotion Councils
There are a number of export promotion councils in India for various product categories. They usually have a database of exporters that they can share with importers.  
These councils are registered as non-profit organizations under the Companies Act / Societies Registration Act of India. They perform both advisory and executive functions, and they are also the registering authorities for exporters under India's Foreign Trade Policy. 
Some councils have lists of their exporters online, or you can email them to ask for a supplier list, which will typically have thousands of exporters. You may or may not get supplier contact information on the lists, and at times the contact details and supplier profile info is not up to date. 
If the list has only company names, you can try doing a Google search to find their website.  
The advantage of getting a list from these councils is that you can be certain these companies are exporters. If you email the councils, response may be slow. 
While there are a number of ways to find Indian exporters online, it is important to make sure the supplier is export-focused as companies that produce for the domestic market do not understand quality and design standards of overseas markets.
Sourcing fairs are a great way to discover new products to source. Walk down the aisles and you might find an exciting new item you wouldn't have thought about sourcing.
Post COVID, consider joining India Sourcing Trip and visiting a trade show as that is the most efficient way to meet with thousands of suppliers at a time and see a huge variety of products.